Gigi Hadid, het topmodel met Nederlandse roots
Dagelijks analyseren we hier bij Manners alles waar wij mannen van houden: auto's, whisky, goede manieren en natuurlijk vrouwen. Het goede nieuws: jullie mogen meegenieten. Vergis je echter niet, we schotelen je niet zomaar tieten voor. Of toch niet per se. Wel een vrouw die ons om veel andere redenen bij onze kl*ten heeft. Deze week: Gigi Hadid, het topmodel met Nederlandse roots waar wij gerust eens een portie bitterballen mee willen delen. 
Gigi Hadid
Drieëntwintig lentes jong is het supermodel en ze is zowel op de catwalk als op de cover van magazines een graag geziene gaste. Haar echte naam is Jelena Noura Hadid – de naam Gigi kreeg ze op de basisschool. Een van haar klasgenootjes heette Helena en om verwarring te voorkomen ging Jelena voortaan als Gigi door het leven, een bijnaam die ze weleens van haar moeder kreeg. Weet je dat ook weer.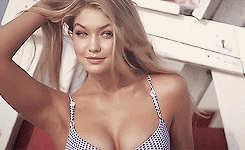 Als de knappe blondine geen model was geworden, was ze misschien wel in de sportwereld geëindigd. Op school speelde ze in het volleybalteam waarmee ze zelfs deelnam aan de Junior Olympics én deed ze aan paardensport op hoog niveau. Samen eens paardrijden, Gigi?
Haar favoriete snacks verraden haar roots, want Gigi is dol op Hollandse poffertjes en … een goed pak friet met mayonaise. Trouwen? Bovendien is het model ook nog eens een keukenprinses en is haar levensmotto: "Eat clean to stay fit, eat a burger to stay sane." Nogmaals, trouwen?
Alsof dat nog niet genoeg was, heeft ze ook nog eens een goed stel hersenen, want het topmodel studeerde Criminologie in New York – bestaat er een betere combinatie tussen beauty en brains dan Gigi Hadid? Als dat zo is, zal die toch sterk haar best mogen doen.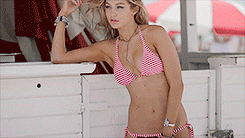 Meer vrouwelijk schoon?